Speedwell of Rhu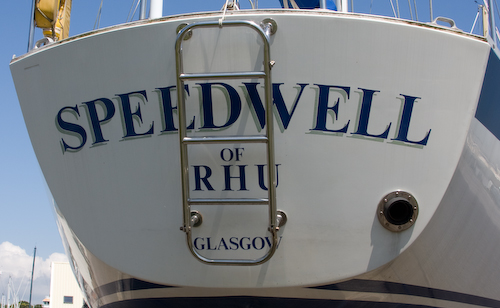 Speedwell (our former Oyster 435) has been sold. We no longer own the boat but we'll keep this page up for interest.
Speedwell of Rhu is an Oyster 435 (hull number 41) built in 1988. Oyster use a number of different yards to build their boats, Speedwell was built by Landamores, who have a reputation for high quality work.
The 435 was designed by Holman and Pye and 65 boats were built over an 11 year production run. These are semi-custom boats and were available with at least 3 different keel options, two types of stern, aft or centre cockpit deck layouts, a deck saloon option on centre cockpit boats, sloop or ketch rigs and a whole variety of interior layouts. Some boats were sold as bare hulls and fitted out by their owners, giving even more variation. With all this choice no two 435s are the same.
Speedwell is an Oyster completed centre cockpit deck saloon model with the standard keel, transom stern and ketch rig. She has a custom fixed windscreen to give a little more protection to the cockpit. Down below there are two double sleeping cabins, the forward heads is right up in the bow, the aft heads is between the aft cabin and the saloon (with access from both) and the main access to the aft cabin is through the galley. The navigation station is just forward of the aft heads (in some layouts it's in the saloon), so on our boat the saloon has seating on both sides. The saloon seating can be used as sea berths and is fitted with lea cloths (some boats have curved seating which cannot be used for berths).
From an accommodation point of view the big aft cabin with a full size double bunk and the airy saloon with lots of light from the deck saloon windows are the real selling points of this boat.
We're told that her original owner planned to take her across the Atlantic (though he never got around to it) so she was fitted out with two fuel tanks and four water tanks. The saloon sole is raised with the batteries and most of the tanks beneath, keeping the weight low and leaving plenty of space for lockers elsewhere.
We looked at quite a few boats before choosing Speedwell, this is why we bought Speedwell of Rhu.
Specification
| | | |
| --- | --- | --- |
| Length Overall | 43'0'' | 13.22m |
| Length on the Waterline | 37'0" | 11.25m |
| Beam | 14'0" | 4.18m |
| Displacement (approx) | 30,000 lbs | 13,600 kg |
Systems and Upgrades
We bought Speedwell of Rhu understanding that she was a 21 year old boat that would need some repairs, upgrades and changes. Over the winter of 2009/10 we put her into Fox's boatyard in Ipswich for a major refit (and did some of the fit out work ourselves).Here are details of the major jobs:
Our Previous Boats
Our first sailing yacht was a Moody S38 "Ocean Mist". Here's some information about her.
Before that Andy owned a Laser, which he used to race, with no success, at Grafham Water.
Other Speedwells
Other Oyster 435s
(If you have an Oyster 435 and would like a mention
---